For dietary-education space for children
With the keyword Healthy Farming,
Transmitting agricultural information.
Provision of information about the primary industry (agriculture) with the keyword "Kenko (Healthy) Farming", together with the exhibition of big Japanese radish having greater-than-the-normal size and big pumpkin, takes place offering the space for sensory experience of the possibility of plants.
Also utilized as one of space for dietary education for children to familiarize them with soil and growth of plants.
Best time to view plants
At Manda Wonder Farm, you can observer the growth of various plants throughout the year.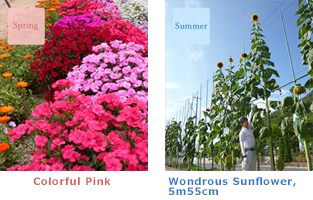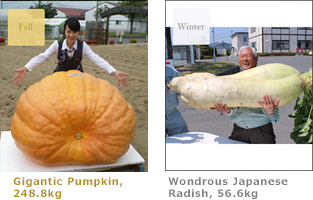 Overview of Events
Admission
Open free of charge for any person, school, or group
Number of visitors
You can subscribe from just one person and up.
Open hour
8:45~17:00 (Advance reservation only: please subscribe beforehand.)
Holiday
New Year's Holidays
Time required for tour
About 60 minutes
For group visitors
Free parking for a tour bus.
Please advise beforehand in case of a group tour.
Free parking is available for private cars.
*Please note that we, as a food factory, may have to decline the entrance of customers who have been drinking heavily.
*Not limited to this case, our staff may give you a request, caution, or warning at their discretion. Please follow instructions by our staff.
Access Information