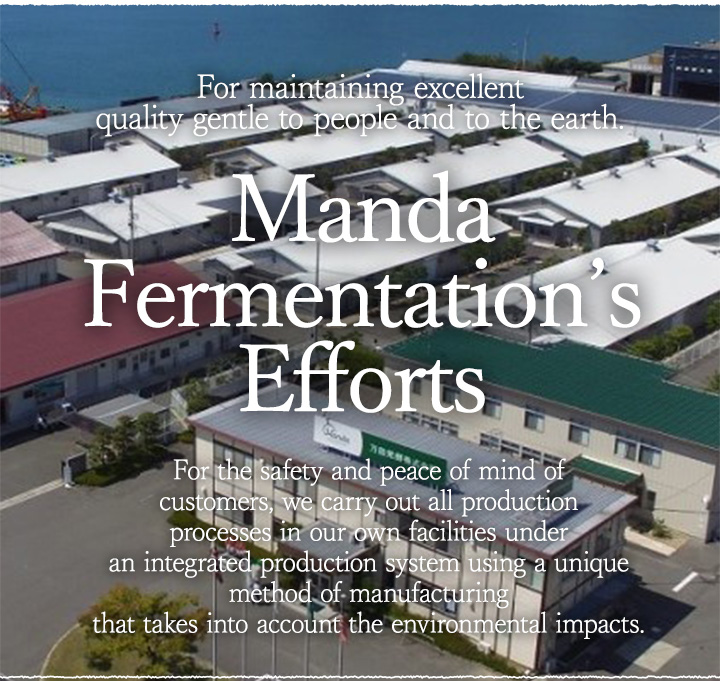 Consistently produced in our own plants, for reliable products only
Since the foundation, we have conducted all production processes, from procurement of raw materials,production, to shipment under the consistent systems carried on our plants. This is because we want to deliver truly good products along with confidence. Therefore, citrus fruit and vegetables are cropped in our own farms as much as possible and the rest of the raw materials are directly procured from reliable contract farmers. In our production plants, we have established strict screening criteria for scrutinized examination, assuming absolutely uncompromising attitude toward the assurance of safety.

We will keep our efforts in various areas from now on to the furtherance of customer satisfaction, with a candor and a decision to become a reliable enterprise to create products that can have a long history.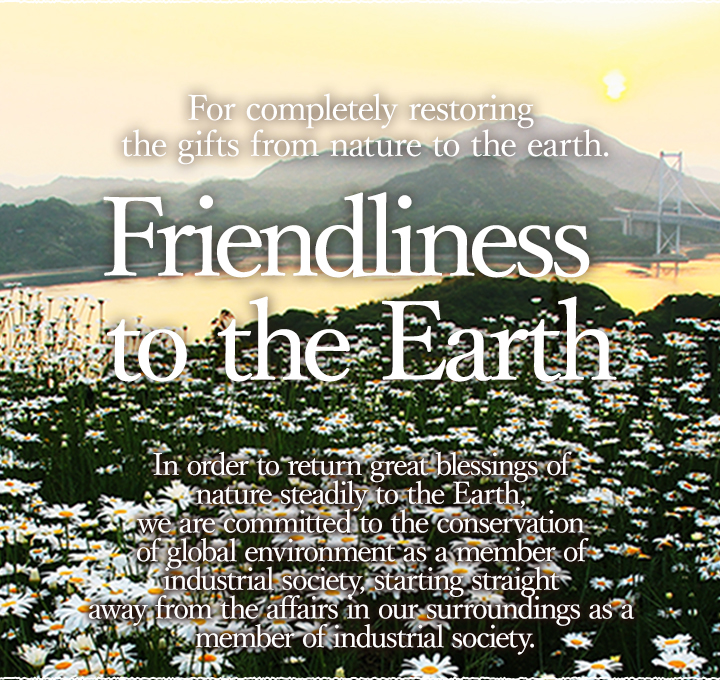 For conservation of environment
To preserve and live together in a given environment we are involved with various measures in production phases as well. Waste is almost zeroed thanks to the wholly utilized raw materials only excepting the rinse water discharge after cleaning the raw materials and equipments. In addition, discharge of carbon dioxide due to the consumption of electricity and gas is nominal since heating is unnecessary during the fermentation process. In this manner, production processes are reviewed carefully to reinforce the efficiency though patient efforts in the production plants.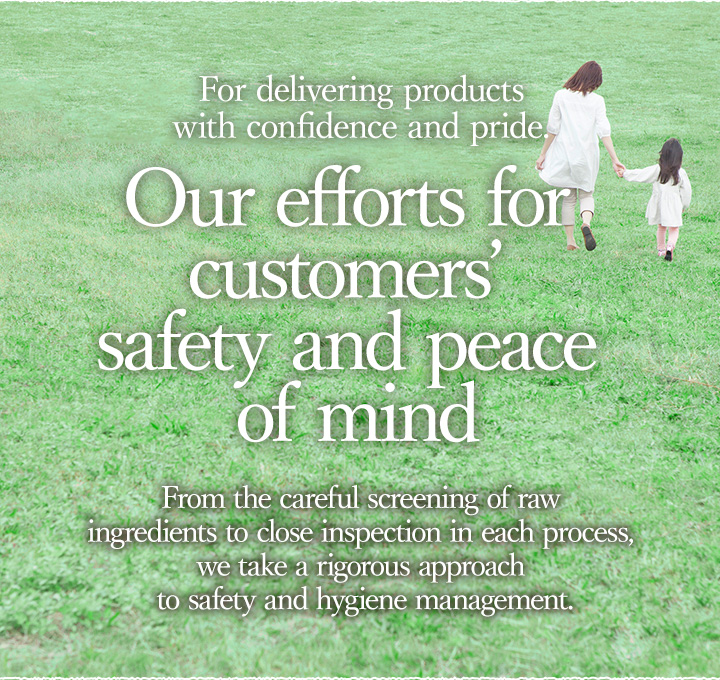 Only those satisfying stringent quality criteria are adopted as raw materials for "Manda Koso"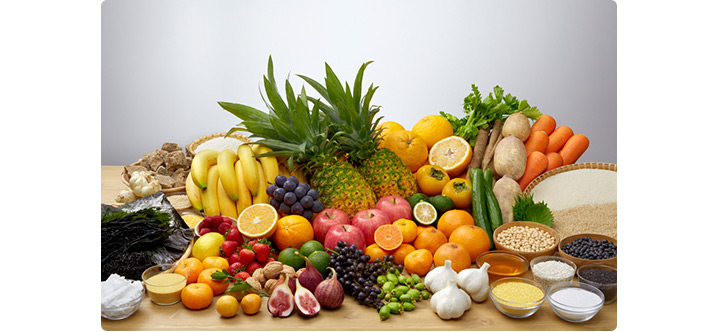 Safe standards for raw materials have been established at the stage of procurement to analyze residual agricultural chemicals, and rigorous check for the record of cultivation management has also been standardized. Only those traceable up to cultivated areas for verification of conformity to the quality standard are put to use. So far as soybeans and corn are concerned, no genetically modified raw materials are used. Only when these standards are met, the raw materials are used for "Manda Koso".
Safety, Reassurance, High Quality
Attested by rigorous physicochemical/microorganic inspection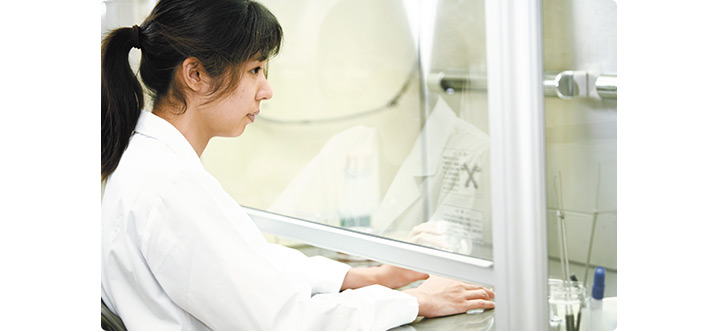 All products are physicochemically inspected for thoroughgoing QC by the expert staffs. We mainly check inspections related to the basic product quality. The nutrient components such as vitamins, proteins in numerical values are checked by external analysis. For microorganic inspection, hygienic issues are subjected to in-depth checking focused on the presence/absence of bacteria and fungi, in addition to the transition of the quantity along the time elapsed after manufacturing.
Wishing to deliver products
always stable and identical, down to the flavor/ aroma/color/luster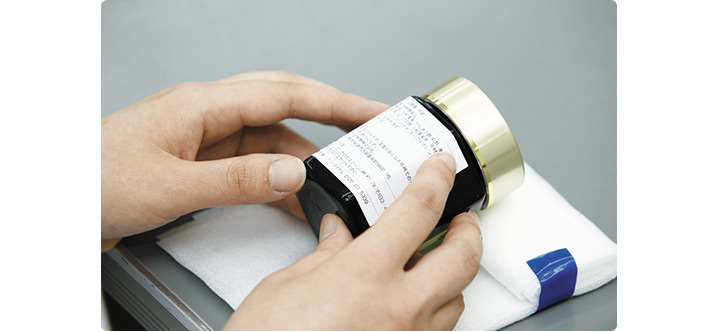 However a measuring instrument may make advance in accuracy, it would not yet equal to human sensibility. We conduct sensory testing to determine the quality of taste, aroma, and color using the five senses of human.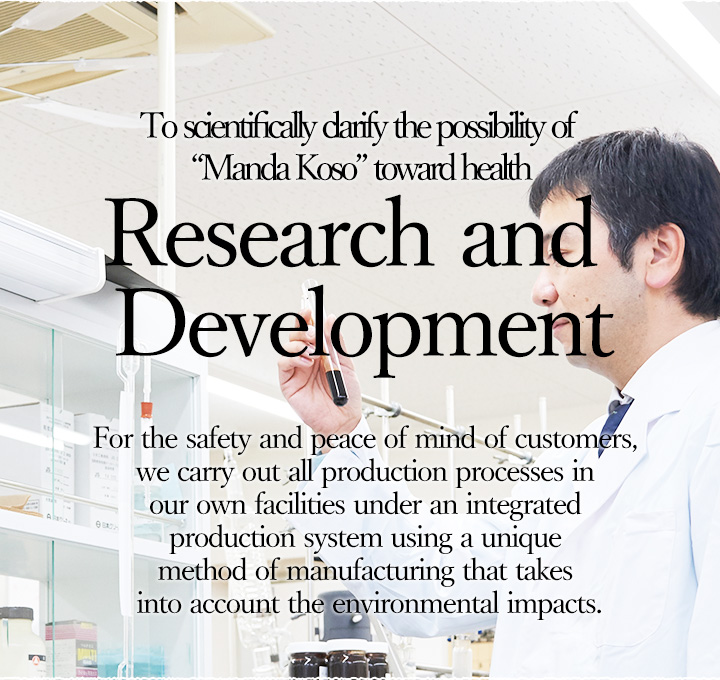 At Manda Fermentation, we aim to reveal the mechanisms of "Manda Koso" beneficial to our bodies, and besides, make the most of the properties to the development of further valuable products.
Since introduced into the market, "Manda Koso" has been eaten by a great many people from children to the elderly, expectant mothers, and so on. Following the situation, we received from our customers a variety of information about the changes of physical conditions in diverse ways. At our R & D department, these data are compiled to scrutinize the nature of such changes, whether or not attributable to the intake of "Manda Koso" in order to clarify its mechanisms. Since many of the customers taking "Manda Koso" are also eating other health food and supplements, specific methods for analysis (e.g., statistics) must be employed to assess the validity of alleged changes in physical conditions to make sure that they are truly the effect of "Manda Koso" or otherwise.
We have scientifically probed into "Manda Koso" in terms of test-tube and animal experiments coupled with extensive application of statistic technology. Based on the researches so far made, identification of functional constituents contained in "Manda Koso", together with the analysis of the influence on physiology, brought in some findings to clarify several notable facts. From now on, we will make efforts to continue our research on a daily basis to reveal the mystery of "Manda Koso", on a basis of cool judgment with scientific eyes.
Manda Fermentation's original technology for fermentation
Most of the traditional fermented food products are produced by the fermentation of a single material. The fermented food product produced through multiplex fermentation process involving many kinds of materials like "Manda Koso" is very rare worldwide. Whereas lots of conditions must be precisely controlled even in the case of a single material component, detailed "data" and "management" in addition to extraordinary "techniques" and "experience" are required to implement multiple fermentation of the material comprising more than 53 kinds of components. In particular, there are not a few original fermentation techniques in which we take pride.

・Techniques to control fermentation involved with a plurality of raw materials
・Techniques to implement spontaneous fermentation under low temperature in winter season
・Techniques to produce fermented food products using solid materials such as seeds and rind

Academic data published by Manda Fermentation
In many areas of anti-oxidation, anti-aging, immunity, and stress, Manda Koso's academic data is published in a number of research papers and magazines.
Academic data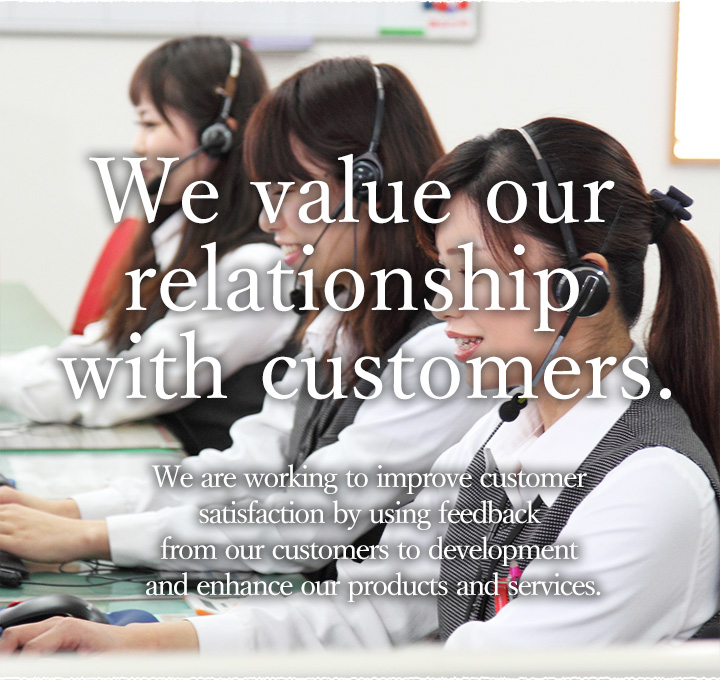 We come face-to-face with customers with honesty —another step in quality control.
It is our desire to deliver reliable products and remain trusted by our customers through direct communication with our customers. We have set up a customer satisfactory unit within the company so that we can use customers' feedback extensively in our corporate activities.

We hope to support our customers' health. Please feel free to contact us by phone if you have any concerns or inquiries.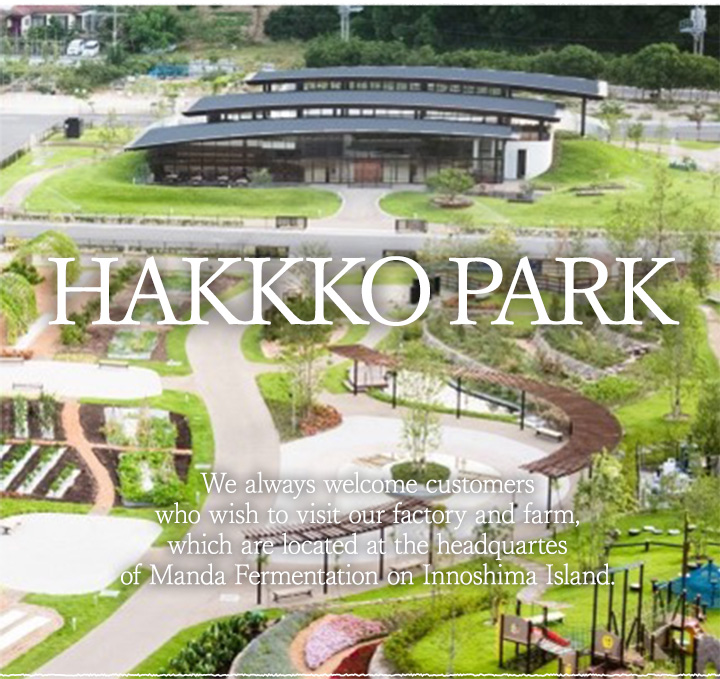 HAKKO PARK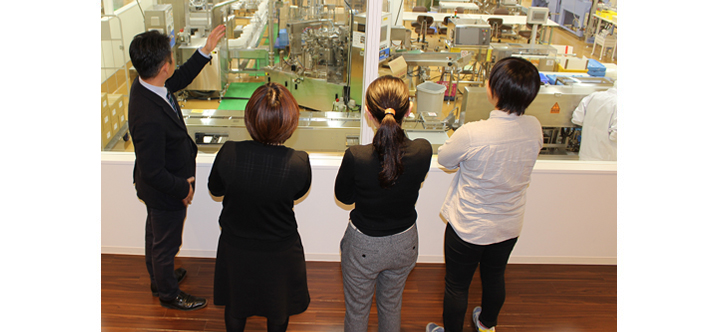 Aside from the tour of our plants to see the production process in front your eyes, you can see the seasonal farm harvests using "Manda Koso for Plants" at HAKKO Garden.(*varies depending on the harvest seasons)

Education trips of elementary / junior-high schools, study tours, and group visitors such as neighborhood associations and circles, are also welcomed.
Nearby residents or those making plans for Innoshima or Onomichi tours are invited to drop in HAKKO Park on such occasions.
HAKKO PARK
Access